ROOTS THAT RUN DEEP ︎

Digital collage, 2016 – ongoing

Digital collages of some of my results from different labs.
︎
Where to begin with this.
I had a DNA test done (aka I filled up a whole tube of spit and mailed it off for some poor soul to peer into) and received my results from 23andme on November 2, 2016. In this project you'll see what I look like as a pie chart according to several DNA tests - 23andme and a bunch of follow up testing I had done with other labs.
The "non-African" sliver was the most detailed bit of my first 23andme chart. The service listed exact ethnicities, nationalities and regions for every percentage point of my European ancestry. My African ancestry is simply labeled "West, Central, and Southern African". The "Southeast Asian and Native American" portion isn't specific either.
African Americans are a rich amalgamation of numerous African nations, tribes, and ethnicities. The 23andme results didn't reflect that back to me.
︎
First results: 23andme
My 23andme results (minus the percentage breakdowns - there were too many of them to screenshot, lol), and emails with a 23andme rep who let me know that I'm a "living analysis".

︎
Eventually I submitted my raw data from 23andme to gedmatch.com, DNA LAND, and My Heritage for some free analysis and had a huge breakthrough.
The results gave me incredible insight into all of my ancestry, which you can see below. Each interpretation of my raw data is unique and paints a slightly different picture.
I've always wondered about what's gone into the pot that makes me up - lots of violence, love (for better or worse), lust, and beauty poured me out. I reviewed all of the stories I heard about ancestors who may or may not have existed: Blackfoot (Siksiká or Niitsitapi) native great greats, my mothers perhaps Geechee ("Gullah") side of the family, members of my father's side from New Orleans. I knew that my family arrived to the United States in bondage and that not all of us made it here, that my intuition and my spirituality were inherited, and that I had a very close relationship with my ancestors, who celebrate all of my victories with me.
Results from the other labs




I used two labs on this database: EthioHelix and Eurogenes. (I used Eurogenes to cross reference my EthioHelix results).


EthioHelix results:
Gedmatch's Ethiohelix test results do not go into detail for any of my "non- African" ancestry. The Western/ Eastern European portion is simply labeled "French". The portion labeled "Omotic" is referring to a subfamily of Afro-Asiatic languages. Gedmatch has also matched me with family members (much like 23andme) and given me specific country, tribe, and language group approximations.
Eurogenes results: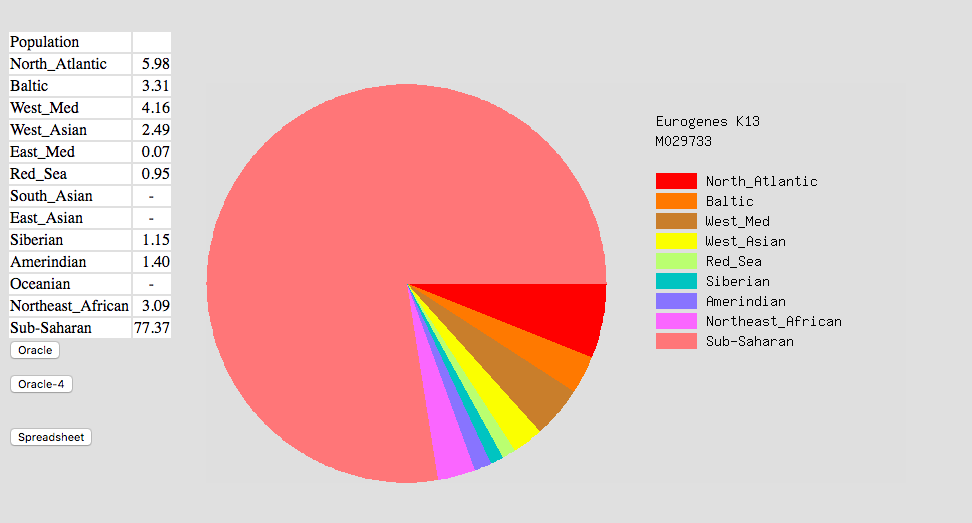 Gedmatch's Eurogenes test results do not go in detail in terms of ethnicity or tribe, but I like that they treated all of my DNA the same way - no specific region got more or less attention.
DNA LAND's interpretation of my raw data was the most detailed out of all of the labs I tried out. My DNA matched with that of ethnic groups in Nigeria, Sierra Leone, Senegal, the Gambia, Central African Republic, Kenya, Tanzania, Pakistan, North Africa (specifically Libya and Egypt), the Mediterranean, Central Asia, South Asia, Central Indo-Europe, and the Americas.
My Heritage's interpretation of my raw data was pretty similar to both DNA LAND and gedmatch/ Ethiohelix, but some countries and ethnicities that appear on other tests are left out. There is no doubt that this one is more helpful than 23andme, but only slightly less vague.
︎
So what do all of these results mean? Well for one, I now have very detailed visuals that affirm that some of what I was told at family gatherings was correct, thanks to
gedmatch.com, DNA LAND, and My Heritage
.
On the other hand,
23andme
left me with the glaring reality that the details of the majority of my DNA have not been accounted for in their database. They claim that they are constantly updating their DNA database and that my results are a "living analysis", so there is hope that they will become more detailed as time passes. I think I might believe them. I signed on to their site the other day and found a new feature that let me know when my most recent ancestors from each place lived. That was pretty cool.
But at the end of the day, I want to be clear that
receiving those results was the most exciting anticlimactic experience I've had.
The thing that matters the most to me is the carelessness reflected in my original 23andme results. I removed the labels and the colors that were on the original charts and decided to make some collages because I felt like if I couldn't have proper details for all of me, I didn't need them at all.
I spent a lot of time reflecting on identity and what it means. I had no clue how to identify myself beyond the way I am labeled by strangers passing me on the street because some of my ancestors' identities were stripped from them. But the results also clearly show that I'm both the oppressed and the oppressor.
︎
2021 update: 23andme has updated the revamped ancestry breakdown from 2019.
︎
2019 update: 23andme has finally provided a more detailed ancestry breakdown than the one I got when I started this project.